Uniform and Appearance
Our Violet Way Academy Uniform
We believe it is important for children to wear school uniform because it looks smart, wears well and fosters a sense of pride and belonging. Children wear their school uniform to show that they belong to Violet Way Academy. Information about our uniform is provided below - please read our Uniform Policy for full details.
Our School Uniform consists of: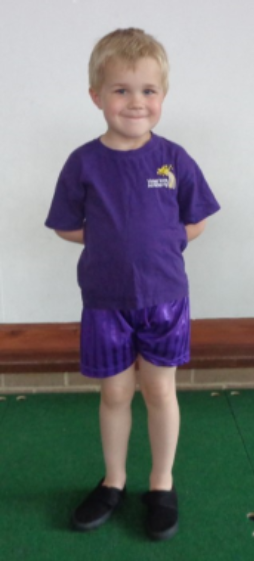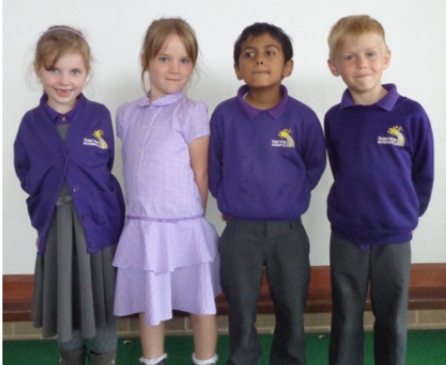 Violet Way polo shirt
Violet Way cardigan or jumper
Grey skirt, grey shorts or grey trousers
Grey dress or violet gingham summer dress
Black shoes (with Velcro fastening if your child is unable to tie laces)
Our PE uniform consists of:
Violet Way t-shirt and shorts
Black pumps
Please note, your child's PE kit should be kept in a bag clearly labelled with your child's name.
All children need a book bag (Violet Way book bags can be purchased from our suppliers). ALL children's clothing, footwear and bags MUST be clearly labelled with your child's name.
For Forest School - On your child's Forest School day, they need to wear:
Their usual school uniform polo shirt and their uniform jumper or cardigan
Black or navy-blue long trousers, leggings, joggers or similar (not jeans)
Children can wear trainers on Forest School days
All children should have a pair of wellies, labelled with their name, to keep in school for Forest School
Jewellery and hairstyles:
It is expected that jewellery is NOT worn, other than small, plain stud earrings (if children have pierced ears) and a watch.
Children should NOT wear nail varnish to school.
Pupils with long hair are advised to have their hair tied back to prevent it getting pulled.
Hairstyles should be plain and hair should be neat and tidy. Hair should not be dyed. Hair accessories such as slides, ribbons bobbles, etc., should be fairly simple and, if possible, in school colours. Simple headbands, bobbles and hairclips can be worn but large hair accessories, such as large, oversize bows, headbands with ears or tall parts attached or similar large hair accessories should NOT be worn as these can restrict the view of other children in the class.
Where can I buy my child's uniform?
The Violet Way jumpers, cardigans, polo shirts, PE t-shirts and shorts and book bags can all be purchased from our list of suppliers (please see details below). Other school uniform items, such as grey skirts, grey shorts, grey trousers, grey dresses and violet gingham summer dresses, black or navy-blue leggings / joggers / trousers and wellies (for Forest school) black shoes, coats, drawstring bags for PE and black pumps can all be bought more widely, e.g. from 'high-street' retailers.
Second hand uniform: Our PTA keeps some second hand uniform stock and they also have sales at events during the year where parents can purchase second hand uniform. Parents and carers can call the school office or email office@violetway.org if you would like to request second hand uniform and we can see what we have in school.
WB Global Trading
20 Bells End Road
Walton on Trent
DE12 8ND
Tel: 01283 224512
website: www.wbglobaltrading.co.uk
School Trends
Barlow Park Ltd (trading as School Trends)
9 Holbrook Enterprise Park
Enterprise Way, Sheffield
S20 3GL
website: www.schooltrends.co.uk