Behaviour and Rewards System
Our Behaviour Ethos
At Violet Way Academy, we believe that our children should develop a love of learning and show care and respect for each other within a happy, secure and challenging learning environment. Our staff team has high expectations of every child and encourages them to be the best they can be. Children are nurtured and positive relationships formed so that children learn to become comfortable with themselves, each other, adults and the world around them.
Everyone in our school is encouraged to develop positive relationships to enable an effective and considerate learning community. Our emphasis is on developing positive behaviour. We would like our children to view the school as a large family, where attitudes of caring, sharing and helping one another are actively encouraged and valued. We work closely with parents, sharing information from home and school, to encourage a positive partnership when promoting and maintaining good behaviour.
There are 5 key principles that we have based our behaviour policy on:
All our people knowing and understanding every child and their influences.
Positive learning behaviours are taught alongside managing misbehaviour.
Consistent, effective classroom management strategies support good classroom behaviour.
Simple approaches are part of regular routine and expectations.
Personalised approaches meet the needs of vulnerable children who display more challenging behaviour.
Five Golden Rules and Values
In order to achieve these aims, our staff take time to establish and build warm, genuine relationships with our young learners through positive, respectful interactions. Our positive behaviour approach is intended to promote a feeling of community, cooperation and collective responsibility, fostering the development of good manners, sharing, kindness and the importance of working hard. We want to enable our children to become courteous, considerate and caring members of the community.
Our behaviour principles are underpinned by our Five Golden Rules, our school values and the key associated character traits.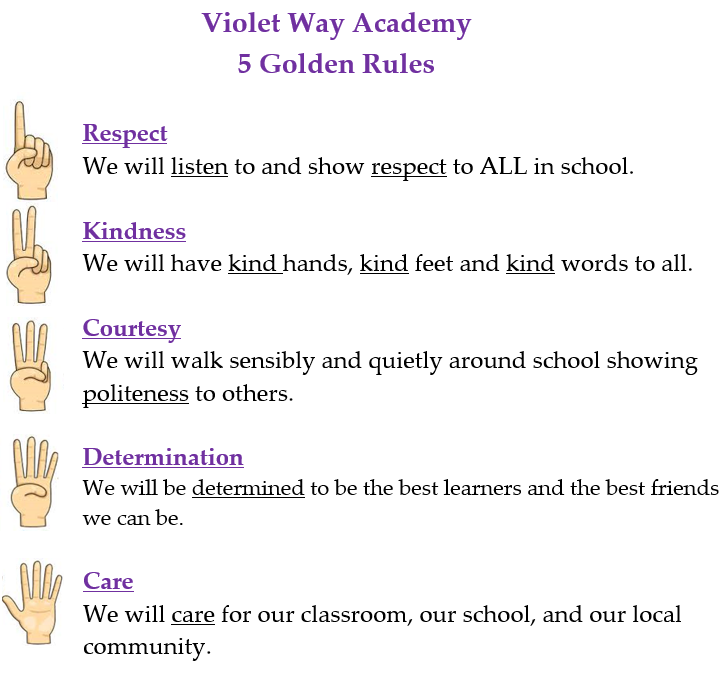 Our Five Golden Rules help children look after one another and behave appropriately in school. We think that these rules are fundamental to a happy and safe learning environment. Everything we do is underpinned by our school values. Our Five Golden Rules are based around our school values.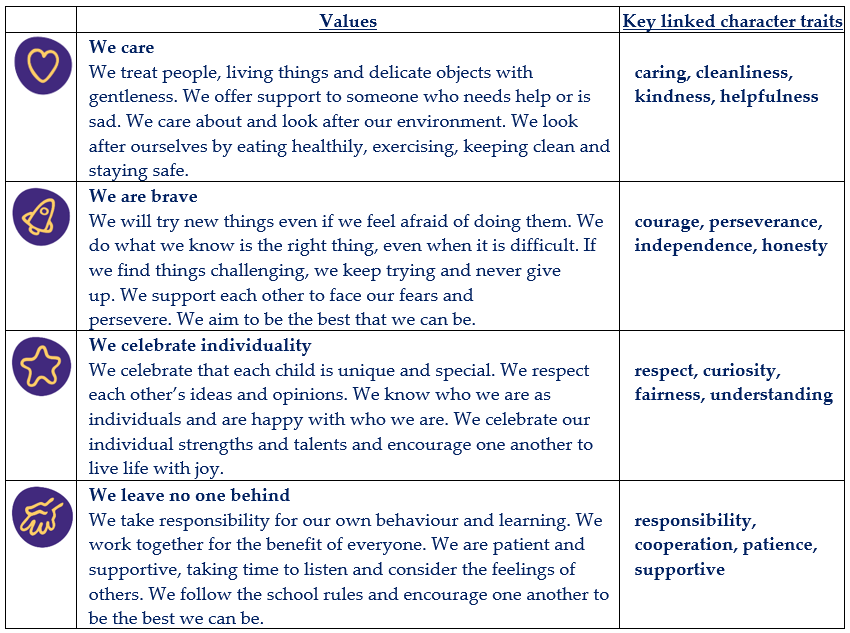 Our Behaviour Approach
All adults consistently model and praise the behaviour we expect to see and support children in reflecting on their own behaviours in relations to our Golden Rules, school values and associated character traits, developing a shared understanding. At Violet Way Academy, we understand that the term behaviour encompasses children's attitudes to learning, how they manage their responses to emotions and personal conduct, and we aim to support children to behave well by ensuring that everyone understands what is expected of them and knows what is unacceptable. Consistency is important, so that what is unacceptable in one classroom is also unacceptable in another. We encourage children to talk about our Five Golden Rules, thinking carefully about why they are important and considering a range of scenarios. Assemblies, PSHE sessions and class discussions are used to help children to develop a sense of right and wrong, and to develop a caring, respectful attitude towards others.
In all relationships, the emotional wellbeing and mental health of our children is paramount. We empower them to overcome any difficulties and challenges and to make the most of their abilities and opportunities. Having clear routines, rules and boundaries helps children feel secure.
We understand that it is hard for children to stay focused at school if they are feeling too sad or frustrated. We help children to develop self-regulation (how we understand and control our emotions), supporting them to reflect on their emotions: What am I feeling? Why am I feeling like this, and what is causing it? How can I calm down?
We encourage children to make the right choices, and we talk calmly to the children about the consequences of their choices. We have a clear behaviour system which all staff implement. We support children in developing their understanding of good behaviours for learning, respectful interactions and good manners so that they can be focused in lessons and build good relationships with others.
We recognise the importance of ensuring good behaviour so that pupils can learn and teachers can teach. All adults within the school environment have a duty to provide positive role models in all inter-personal relationships and behaviour.
Rewarding good behaviour
All staff look for the good behaviours and place emphasis on positively praising pupils demonstrating good behaviour for learning. Good examples of behaviour will be highlighted, whether in the classroom, assembly, playtime or any other time and staff are conscious of explaining why a child is receiving praise, in relation to our golden rules, values and character traits. Where possible, another member of staff will be made aware of the good behaviour, giving more credence and power to the praise. Staff avoid giving praise without providing a reason, such as: Well done, Great job, Lovely writing as this would not support children's understanding of what behaviours will support their learning.
Examples of praise sentences:
'Thank you for following our third golden rules and walking sensibly around school, you are helping to keep us safe'
It is so lovely to see you persevering, you have kept trying, up even though it is challenging
I can see ..... is focused and ready to listen, good job!
Your handwriting has improved so much, well done for listening, persevering and taking care to make sure your letters are on the line
At the end of every lesson, a Star Learner will be identified, rewarded with a Violet Way Star Learner sticker, and praised in front of their peers.
All staff have lovely stickers to reward positive behaviours in line with our Five Golden Rules, school values and associated character traits. Children can also receive Headteacher and Deputy Headteacher stickers and prizes for good learning and behaviour. We also use 'MarvellousMe' to share information with parents about their child's positive behaviour and learning.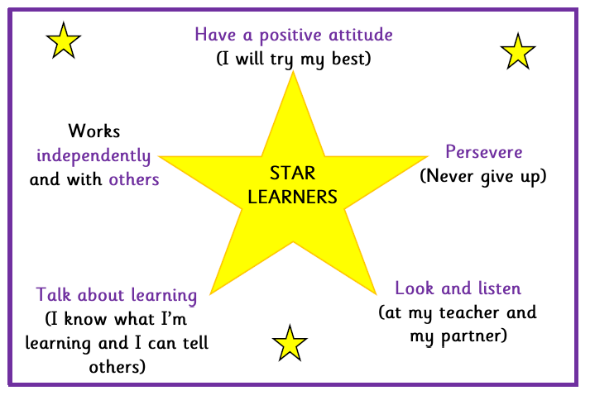 We use MarvellousMe (a simple app) to reward children and inform parents about their child's learning, behaviour and character development. Parents of any young child knows how it can often be difficult to get an answer from their child to questions like 'What did you learn today?' and 'What's that sticker for?' MarvellousMe enables teachers to focus home communication where it really matters, on learning, behaviour and character skills, enabling parents to take to their child about school and learning.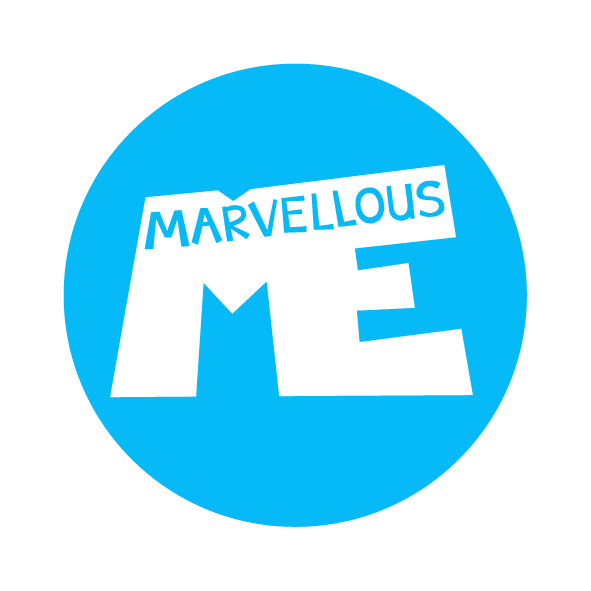 The benefits of using the MarvellousMe app are:
Experience your child's school day – Get alerts when your child's teacher sends a learning postcard, awards your child a badge, or sends you a message. Safely share the news with the whole family.
Celebrate your child's success – Smile every time your child gets a badge or learning postcard. Tell them how proud you are and reinforce their good work and positive behaviours. MarvellousMe will make you smile and feel proud!
Support your child's learning and development – Have more meaningful conversations with your child about school and their learning and behaviour. MarvellousMe inspires better home learning support and encouragement and your involvement will have a huge impact on your child's ongoing success.
Keep up to date – Get messages and reminders from your child's teacher or access school information through the app.
Children can earn 'Thumbs Up' points in school through MarvellousMe. Parents won't be notified of these as they tend to add up quite quickly! However, parents can check their child's 'Thumbs Up' counter in the MarvellousMe app.
Whole school assemblies are held weekly and two children from each class are chosen to have a Merit Award for that week. They could receive the merit for keeping the Golden Rules, demonstrating our school values or trying hard to be a star learner in class, for example. Children take home a certificate and we sing the 'Well Done' song to celebrate. Parents will also be notified via the MarvellousMe app.
Children can also gain rewards from the Headteacher. Class teachers can choose children to visit the Headteacher to show good learning and children can achieve a Headteacher award.
Please refer to our Behaviour Policy for more information about behaviour at Violet Way Academy.